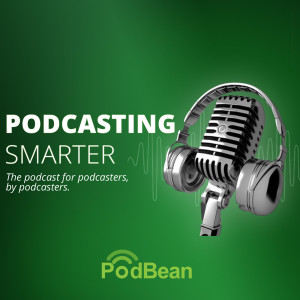 Tuesday Nov 07, 2023
Effortless Editing and Publishing: Unlock the Power of Descript and Podbean Integration
Are you looking to streamline your editing and publishing process?
Do you want a solution that will seamlessly integrate Descript and Podbean to achieve a more efficient workflow?  Look no further!
In this episode of Podcasting Smarter we're speaking with Podbean's Director of Customer Success, John Kiernan about how you can effortlessly edit and publish your podcast episodes with Descript's Podbean integration.
"With Descript and Podbean, you have no excuse. You can record, edit, and upload your podcast directly, making the process streamlined and efficient." - Norma Jean Belenky
The Descript and Podbean integration presents an incredible opportunity to streamline your podcasting process. The platform allows you to publish your finished audio and video files directly to Podbean, eliminating the need for downloading and re-uploading. In essence, Descript's integration with Podbean creates a one-stop solution for editing and publishing, freeing up your time for more essential tasks like content creation.
In this episode, you will be able to:
Learn how Descript's user-friendly interface simplifies the podcast editing process, giving you more time to focus on creating compelling content.

Discover how Descript's AI-powered technology can effortlessly remove filler words and improve audio quality, making your podcast sound polished and professional.

Explore the seamless integration between Descript and Podbean, allowing you to edit and publish your podcast episodes with just a few clicks, saving you time and effort.

Uncover how Descript can revolutionize your podcast editing workflow, boosting efficiency and effectiveness, so you can produce more episodes and reach a wider audience.

Experience the game-changing benefits of using Descript for podcast editing, as it streamlines the entire process from start to finish, empowering you to create high-quality content effortlessly.
Resources:
Join our Upcoming Event on the Descript Integration with Podbean:
Other Episode Mentioned:  
About us:
Podcast Smarter is the official in-house podcast by Podbean. 
Podbean is a podcast publishing and monetization service, hosting almost 640,000 podcasts.  If you're looking to start your own podcast, monetize your podcast and livestream directly to your listeners, you can set up an account at podbean.com 
Connect with us:
Email us: