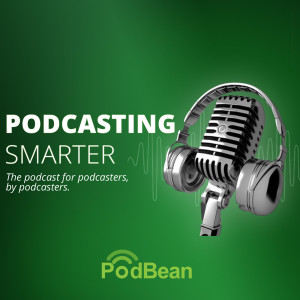 Tuesday Aug 29, 2023
Monetize Your Podcast: Unlock New Revenue Streams with Podbean's Apple Podcast Subscriptions Integration
On this episode of Podcasting Smarter, Podbean's Head of Events, Norma Jean Belenky, speaks with Podbean's Dir. of Cutomer Success, John Kiernan on Podbean's new Apple Podcast Subscriptions Integration! 
"Creating exclusive content for your most dedicated audience can help you grow your podcast and turn your listeners into brand ambassadors." - Norma Jean Belenky. Podbean's Head of Events & APAC Enterprise Sales
Apple Podcast Subscriptions is an innovative tool for podcasters looking to monetize their content. This unique feature allows podcasters to create, and charge for, exclusive content directly from their main publishing platform, such as Podbean. By tapping into this monetization avenue, podcasters can enjoy a substantial stream of revenue, resulting in an exciting transformation of the podcasting landscape.  Creating exclusive podcast episodes also provides a golden opportunity for you to engage more deeply with your audience. By offering special content, such as ad-free shows or extended interviews, you can cultivate a dedicated fanbase and deliver a more enriching listening experience for your audience.
This strategy not only helps monetize your podcast but also turns loyal followers into brand ambassadors, further driving the show's popularity and reach.  The integration of Apple Podcast Subscriptions simplifies the publishing process, reducing it to a straightforward procedure. No more jumping between platforms - as a podcaster you can now manage everything from one place, including uploading and publishing your exclusive content. This seamless process makes it easier for all podcasters to focus on what truly matters – content creation. The added efficiency makes for a more enjoyable, and profitable, podcasting journey.

In this episode, you will gain the following: 
Discover how Apple podcast subscriptions can be a game-changer for your content monetization journey.

Learn to create premium episodes that not only promote your brand but also reward your most passionate fans.

Streamline your publishing process to attract and retain a wider audience.

Harness the power of setting flexible subscription rates and establishing a lucrative revenue system.

Realize the significance of imaginative and appealing content in retaining your listener base.
Resources:
Read details about the Apple Subscription Integration here:
Podcast Smarter is the official in-house podcast by Podbean. 
Podbean is a podcast publishing and monetization service, hosting almost 620,000 podcasts.  If you're looking to start your own podcast, monetize your podcast and livestream directly to your listeners, you can set up an account at podbean.com 
Connect with us:
Email us: