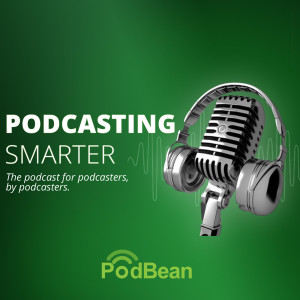 Tuesday Oct 31, 2023
TikTok Terror: How Social Media Is Helping "Heart Starts Pounding: Horrors, Hauntings and Mysteries" Reach Thousands of Spooky Enthusiasts
On this episode we're speaking with Kaelyn Moore of the Heart Starts Pounding: Horrors, Hauntings and Mysteries podcast!  
We dive deep into Kaelyn's process of selecting stories, her meticulous production process, and the crucial role of sound design in creating a spine-chilling atmosphere for her listeners. 
Kaelyn also shares how she's built her audience and how TikTok has been a KEY FACTOR in the podcast's success! 
"I think storytelling was the biggest one, just how to tell a story and keep people interested, right? Because that's the best thing. That's what everyone's fighting for right now, is attention. And so keeping someone's attention for 30 minutes." - Kaelyn Moore
Kaelyn shares how she chooses stories that spark her interest, focusing on topics that haven't been overdone and have good sources. She takes pride in her production process, planning episodes weeks in advance and recording in her closet for optimal sound quality. Kaelyn's attention to detail extends to her sound design, drawing inspiration from the podcast Lore and incorporating music and sparse sound effects to create an eerie ambiance.
Throughout this special Halloween episode we speak about the unique and unpredictable nature of "Heart Starts Pounding," making each episode a surprise for listeners. If you're a horror and true crime podcast enthusiast looking for captivating stories with a spooky atmosphere, this Halloween deep dive episode is a must-listen.
Key takeaways from this episode are:
Unleash the potential of TikTok as a platform for building an engaged and devoted audience, eager to consume your content.

Discover how podcasting gives a voice to everyone and empowers the so many kinds of storytelling.

Prepare to have your heart racing as we delve into the podcast's horrors, haunting mysteries, and spine-tingling tales.

Explore the art of storytelling and the powerful influence it has on captivating and engaging listeners.

Learn the importance of sound design in creating a truly immersive and spine-chilling atmosphere that will leave you on the edge of your seat.
Resources:
Subscribe to our email newsletter to get industry updates: https://www.podbean.com/email-subscribe 
Sign up for all of Podbean's Free Live Events here:
https://www.eventbrite.com/o/podbeancom-31329492977 
About us:
Podcast Smarter is the official in-house podcast by Podbean. 
Podbean is a podcast publishing and monetization service, hosting almost 640,000 podcasts.  If you're looking to start your own podcast, monetize your podcast and livestream directly to your listeners, you can set up an account at podbean.com 
Connect with us:
Email us: