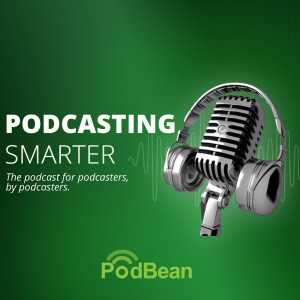 Tuesday Aug 23, 2022
The Benefits of Embeddable Players for Internal Podcasting, LMS integration and more!
In this episode of Podcasting Smarter, we discuss embeddable players and how they work within Podbean's Enterprise and Business podcasting solution.  
We're speaking to Podbean's Director of Communications, Shannon Martin, about how to utilize an embeddable podcast player within your organizations podcasting and communications strategy, how the technology works and the benefits for your organization including.. 
What internal podcasting is for enterprise-level organizations
The definition of an embeddable player for internal podcasting
How an embeddable podcast player is secure
How you can use embeddable podcast players within an LMS or MS Teams
The benefits and features of an embeddable podcast player
 Find out more about Podbean's business solutions at https://www.podbean.com/enterprise/enterprise-podcast-solution and reach out to us with any questions or to get in touch with the Enterprise team at podcastingsmarter@podbean.com. 
...
Podcast Smarter is the official in-house podcast by Podbean. 
Podbean is a podcast publishing and monetization service, hosting almost 600,000 podcasts.  If you're looking to start your own podcast, monetize your podcast and livestream directly to your listeners, you can set up an account at podbean.com 
To contact Podcasting Smarter with questions get in contact at podcastingsmarter@podbean.com 
To subscribe to our email newsletter to get updates from the team head over to: https://www.podbean.com/email-subscribe