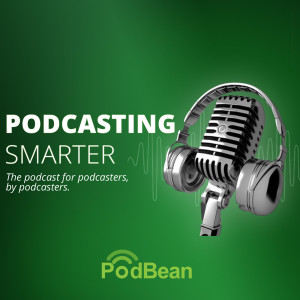 Tuesday Dec 20, 2022
The 8 Ways Corporate Podcasts Can Keep Your Employees Engaged with Podbean's Director of Customer Success, John Kiernan
On today's episode, we'll be speaking with Podbean's Director of Customer Success, John Kiernan, about eight ideas that corporate podcasts can use to keep employees engaged.
From sharing company culture and history to highlighting achievements and featuring guest speakers, these tips will help you make the most of podcasting within your company.  
"Podcasting is such an exciting medium and allows for such an enormous amount of expression and communication within an organization."

In this episode, you will learn the following:
1. How can companies use podcasting to share company culture and history with employees?2. What are some benefits of using podcasting to highlight employee achievements?
3. How can podcasting be used to stay up-to-date on industry news and trends, and share company updates and news?
About us:
Podcast Smarter is the official in-house podcast by Podbean. 
Podbean is a podcast publishing and monetization service, hosting almost 620,000 podcasts.  If you're looking to start your own podcast, monetize your podcast and livestream directly to your listeners, you can set up an account at podbean.com 
Connect with us:
Email us: