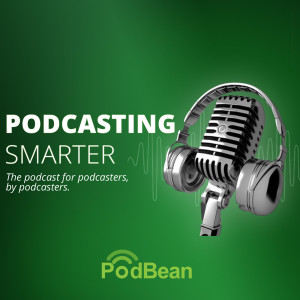 Wednesday Nov 16, 2022
Smashing the Ceiling: A Conversation with Naomi Mellor, founder of the International Women's Podcast Awards and The Skylark Collective
In today's episode of Podcasting Smarter, Naomi Mellor of The International Women's Podcast Awards and the Skylark Collective.  Naomi continues to work to amplify the voices of female podcasters and provide them with the platform and recognition they deserve and on this episode she shares her story about creating the awards, her production company and what she's learned along the way.  

"The more you can lift up others, it takes everybody along with you."

In this episode, you will learn the following:
1. The unique challenges and opportunities for woman in podcasting
2. The importance of lifting up other women and marginalized groups
3. What the International Women's Podcast Awards are and how to submit your podcast

Resources:
Subscribe to our email newsletter to get industry updates: https://www.podbean.com/email-subscribe 
About us:
Podcast Smarter is the official in-house podcast by Podbean. 
Podbean is a podcast publishing and monetization service, hosting almost 620,000 podcasts.  If you're looking to start your own podcast, monetize your podcast and livestream directly to your listeners, you can set up an account at podbean.com 
Connect with us:
Email us: