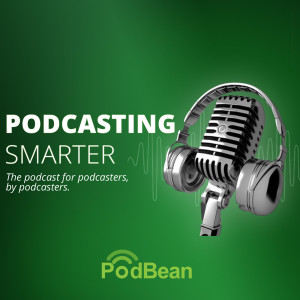 Tuesday Aug 01, 2023
Podcast Discoverability: Boosting Your Reach and Growing Your Audience - LIVE Replay
Today's episode is a replay of our live event, Podcast Discoverability: Boosting Your Reach and Growing Your Audience, featuring Russ More of Pacific Content as part of Podbean's Summer of Discoverability Live Event Series! 
"Podcasts provide an opportunity to tell a story and add value, allowing brands to make a lasting impression on listeners". - Russ More
Russ More is a leader in podcast discoverability. With more than a decade of experience in audio production and audience development, he has honed a keen understanding of the industry's ever-evolving landscape.  Russ is the audience development and paid media lead at Pacific Content and Chief Operating Officer at Fable & Folly Podcast Network and has developed expert knowledge on attracting and engaging audiences, making him an authoritative voice in the realm of podcast discoverability.
Russ shares about podcast discoverability strategies for both brands and independent podcasters. He reveals valuable insights on leveraging social media, collaborating with established shows, and optimizing SEO techniques. 
In this episode, you will:
Learn innovative strategies for enhancing podcast visibility and brand recognition.

Explore effective ways to utilize both owned and earned channels for comprehensive podcast promotion.

Gain insights into effective paid advertising that can target potential audiences of podcasts in similar niches.

Grasp the transformative potential of personal connections and word-of-mouth promotion for increasing your podcast listenership.

Master the secret to designing content that engages audiences and intensifies your brand loyalty.
Subscribe to our email newsletter to get updates from the team head over to: https://www.podbean.com/email-subscribe
Sign up for all of Podbean's Free Live Events here:
About us:
Podcast Smarter is the official in-house podcast by Podbean. 
Podbean is a podcast publishing and monetization service, hosting almost 620,000 podcasts.  If you're looking to start your own podcast, monetize your podcast and livestream directly to your listeners, you can set up an account at podbean.com 
Connect with us:
Find us on socials:
Connect with Russ and Pacific Content on socials:
Email us: