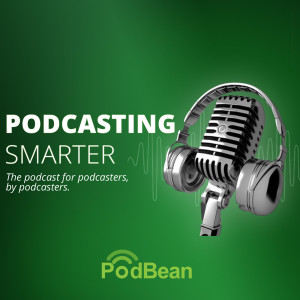 Tuesday Jul 25, 2023
Get Found and Get Heard: Secrets to Optimizing Your Podcast for Discoverability
In this episode of Podcasting Smarter, we're joined by Roni Gosch, Podbean's Podcast Specialist to discuss podcast discoverability, what it means and how your podcast's audience can find you! 
"Discoverability is how you find new listeners for your podcast. It's the key to expanding your reach and diving deeper into the communities you're part of." - Ronnie Gosch
If you're feeling frustrated by the lack of listeners and low download numbers despite your efforts in creating great podcast content, then you are not alone!
Many podcasters struggle to optimize their titles, descriptions, and tags for discoverability, resulting in missed opportunities to reach their target audience and grow their podcasts.
In this episode you'll learn about how to:
Explore the crucial role discoverability plays in the podcast landscape

Master various strategies to heighten your podcast visibility

Learn to craft catchy podcast titles, compelling descriptions, and smart tags to lure your audience

Understand the magic of search engines in boosting podcast discoverability

Uncover the power of podcast directories in magnifying your audience reach
Resources:
Join the Summer of Discoverability: 
About us:
Podcast Smarter is the official in-house podcast by Podbean. 
Podbean is a podcast publishing and monetization service, hosting almost 640,000 podcasts.  If you're looking to start your own podcast, monetize your podcast and livestream directly to your listeners, you can set up an account at podbean.com 
Connect with us:
Email us: