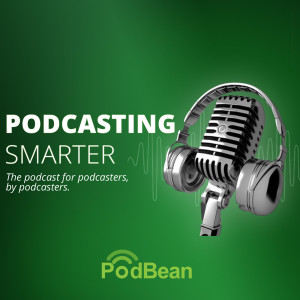 Tuesday Aug 22, 2023
Creating Lasting Collaborations: Harnessing the Power of Podcast Conferences
In this episode of Podcasting Smarter, we're joined by Roni Gosch, Podbean's Podcast Specialist to discuss podcast conferences, the benefits of connecting with your podcast community in-person and upcoming conferences where you can meet the Podbean team! 
"Podcasting can feel like a singular activity, but conferences provide a real community where podcasters are collaborative and eager to team up and do things together that benefit everybody." - Norma Jean Belenky
Podcast conferences can be a game-changer for podcasters and Roni highlights the opportunity to meet new people, forge relationships, and engage face-to-face with listeners and peers. It's a chance to connect with your audience in a whole new way!
If you're wondering how to maximize networking opportunities at these conferences, we've got you covered as Roni suggests reaching out to attendees and speakers before the event to schedule meetings and collaborations.
Conferences can be overwhelming, but fear not! We've got some tips on how to navigate them effectively.
From selecting sessions aligned with your goals to utilizing social media to extend your reach, we've covered it all.
If you're a podcaster looking to expand your network, engage face-to-face with your audience, and connect with fellow podcasters, this episode is a goldmine of insights! 
In this episode you'll learn about how to:
Delve into the benefits of attending podcast conferences, recognizing crucial, influential relationships.

Unlock the secrets of efficient networking, transforming each opportunity into a profitable connection.

Navigate podcast events like a pro, making sure every minute counts towards your success.

Explore how to power up your conference experiences with social media, stirring up online engagements.

Discover the potent impact of collaboration and networking on your podcast journey, using it to cultivate success.
Resources:
Join the Summer of Discoverability: 
About us:
Podcast Smarter is the official in-house podcast by Podbean. 
Podbean is a podcast publishing and monetization service, hosting almost 640,000 podcasts.  If you're looking to start your own podcast, monetize your podcast and livestream directly to your listeners, you can set up an account at podbean.com 
Connect with us:
Email us: