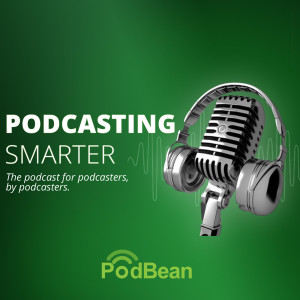 Tuesday Oct 17, 2023
Podcast Advertising Strategies for Businesses: How to Maximize Your Impact
In this episode of Podcasting Smarter we're speaking with Kerry Tracy, Podbean's SVP of Advertising and Norma Jean Belenky, Podbean's Head of Events about how businesses can maximize their advertising impact with podcast advertising.  
"With a limited budget, focus on niche podcasts to get more repetition and deliver your message effectively." - Kerry Tracy
Does this sound familiar? You've been told to invest in podcast advertising to maximize your impact and ROI, but your limited budget is holding you back.
In this episode, you will learn the following:
How to maximize impact and ROI from your advertising budget by leveraging the power of repetition in podcast campaigns.

Discover why podcast advertising is a game-changer and how it differs from traditional mediums like TV.

Unlock the potential of niche audiences by targeting specific podcasts that resonate with your target market, ensuring your message reaches the right ears.

Enhance listener experience and get the most out of your ad campaign by utilizing tools like frequency capping, which helps prevent ad fatigue and allows for better targeting.

Reach your desired customers in specific locations by leveraging geofencing, eliminating wasted ad spend and ensuring your message is heard by those who matter most.
Resources:

About us:
Podcast Smarter is the official in-house podcast by Podbean. 
Podbean is a podcast publishing and monetization service, hosting almost 640,000 podcasts.  If you're looking to start your own podcast, monetize your podcast and livestream directly to your listeners, you can set up an account at podbean.com 
Connect with us:
Email us: