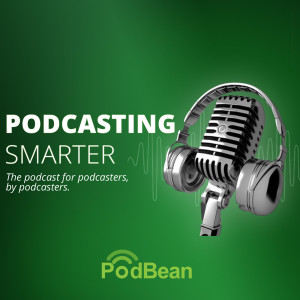 Tuesday May 09, 2023
New Feature Alert: Mastering Podcast Chapters to Enhance Your Listener Experience
On this episode of Podcasting Smarter, Podbean's Head of Events, Norma Jean Belenky, speaks with Podcast Specialist Roni Gosch, about Podbean's new podcast chapters feature! 
"It's such a great way to direct people to specific pieces of content within your episodes." - Roni Gosch, Podbean's Podcast Specialist
Episode chapters have been a long-awaited feature and allows listeners to easily navigate to the best parts of your show. Tune in to find out more about this game-changing feature and the unexpected twist that leaves our host in a difficult situation.

In this episode, you will learn:
1. How to enhance your listening and SEO experience with podcast episode chapters.
2. Mastering the art of naming chapters that captivate like episode titles.
3. Employ chapters to boost podcast storytelling and heighten anticipation.
4. Utilize show notes effectively to emphasize chapter breakdowns.
5. Make the most of the simple process of adding chapters to your podcast.
Resources:
Read details about the Podcast Chapters on our blog:
Podcast Smarter is the official in-house podcast by Podbean. 
Podbean is a podcast publishing and monetization service, hosting almost 620,000 podcasts.  If you're looking to start your own podcast, monetize your podcast and livestream directly to your listeners, you can set up an account at podbean.com 
Connect with us:
Email us: