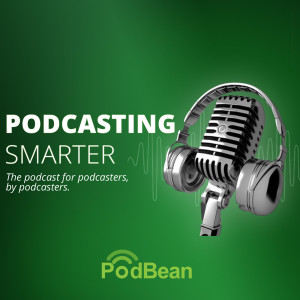 Tuesday Sep 12, 2023
Amplify Your Audience: Navigating Discoverability as an Indie Podcaster with Lynz Floren of Growth Network Podcasts - LIVE Replay
Today's episode is a replay of our live event, Amplify Your Audience: Navigating Discoverability as an Indie Podcaster with Lynz Floren of Growth Network Podcasts as part of Podbean's Summer of Discoverability Live Event Series! 
"Optimizing podcast metadata, including clear and descriptive show notes, is crucial for improving search rankings and helping people find your podcast." - Lynn Floren
In this episode of Podcasting Smarter, Lynz Floren shares creative strategies for improving discoverability and attracting listeners to your podcast. Lynz is at the helm at Growth Network Podcasts and his grasp of unique strategies and a refined methodological approach have been instrumental in redrawing the discoverability landscape for independent podcasters. Over the years, he has amassed invaluable experience that aids him in comprehending and dealing with the biggest bottlenecks that usually halt the growth trajectory of podcasts.
In this episode, you will be able to:
Peel back the layers of strategies crafted for boosting your podcast's discoverability.

Comprehend why maintaining a dependable rhythm of high-quality content is key to audience retention.

Learn to strategically tweak your podcast metadata for enhancing discoverability.

Wield the power of social media for an impressive increase in your podcast exposure.

Incorporate creative methods to excel in audience engagement while enhancing discoverability.
Subscribe to our email newsletter to get updates from the team head over to: https://www.podbean.com/email-subscribe
Sign up for all of Podbean's Free Live Events here:
About us:
Podcast Smarter is the official in-house podcast by Podbean. 
Podbean is a podcast publishing and monetization service, hosting almost 620,000 podcasts.  If you're looking to start your own podcast, monetize your podcast and livestream directly to your listeners, you can set up an account at podbean.com 
Connect with us:
Find us on socials:
Connect with Lynz and Growth Network Podcasts on socials:
Email us: