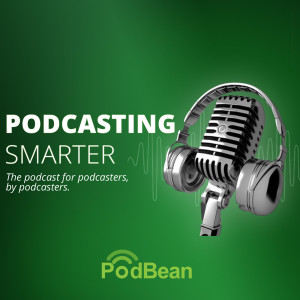 Tuesday Aug 08, 2023
Breaking Down Podcast Advertising Statistics: Facts and Figures You Shouldn't Ignore
On this episode of Podcasting Smarter we're speaking with Kerry Tracy, Podbean's SVP of Advertising and Norma Jean Belenky, Podbean's Head of Events about how podcast advertising statistics work, why they're important and how you can benefit from podcast ads!
"The growth of podcast advertising is incredible. It's growing at a faster rate than the Internet was when it first came about. Podcast revenue is expected to reach $4 billion by 2024." - Kerry Tracy
Do you want to maximize your podcast revenue and implement targeted advertising strategies that deliver results?
In this episode we reveal the key to achieving your podcasting goals and unlocking the potential for increased earnings and successful advertising campaigns.
Join us as we dive into the staggering growth of podcast advertising and the battle between host-read and announcer read ads, uncovering the key statistics and strategies that will leave you podcasting smarter than ever before.
In this episode, you will learn the following:
Uncover the imminent boom in podcast advertising revenue carving a fresh path in the media industry.

Unravel the inner workings of varying ad delivery methods, leading the way in podcast marketing.

Grasp the contrasting nuances of third-party and host read ads in the podcasting sphere.

Appreciate how tailoring ads to the podcast format can enhance audience interaction and boost results.
Resources:

About us:
Podcast Smarter is the official in-house podcast by Podbean. 
Podbean is a podcast publishing and monetization service, hosting almost 640,000 podcasts.  If you're looking to start your own podcast, monetize your podcast and livestream directly to your listeners, you can set up an account at podbean.com 
Connect with us:
Email us: