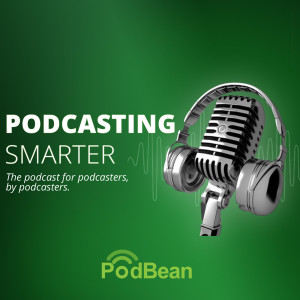 Tuesday Aug 15, 2023
Branded Podcasting: Amplifying Your Brand's Voice with Lower Street - LIVE Replay!
Today's episode is a replay of our live event, Branded Podcasting: Amplifying Your Brand's Voice with Lower Street featuring Harry Morton and Shannon Martin as part of Podbean's Summer of Discoverability Live Event Series! 
"Most of the listenership growth is going to come through word of mouth... So we want to make a show that is worthy of being shared, that is recommendable... That means making a great show and making it easily recommendable." - Harry Morton
Please join us in welcoming Lower Street Studios: Harry Morton and Shannon Martin. With a keen understanding of the podcasting landscape, they've repeatedly demonstrated their competency in leveraging brand storytelling as a tool to resonate with niche target audiences. The combination of Harry's detailed-oriented execution and Shannon's creative zeal are the ingredients that enrich their branded podcasts with a riveting narrative that hooks the listener from the get-go. By ensuring that their podcasts are not only interesting but also positioned uniquely amid the existing gamut, they're redefining the art and technique of podcasting.
In this episode, you will learn how to:
Discover the power of a deep understanding of your podcast's target audience and their listening habits.
Uncover strategies to build long-lasting and meaningful relationships with your listeners.
Explore the ins and outs of creating engaging, value-packed content for your podcast.
Practice setting clear, intentional goals for your podcast for maximum growth.
Be able to use podcast conversations as a tool for fostering meaningful engagement and connection with listeners.
Subscribe to our email newsletter to get updates from the team head over to: https://www.podbean.com/email-subscribe
Sign up for all of Podbean's Free Live Events here:
About us:
Podcast Smarter is the official in-house podcast by Podbean. 
Podbean is a podcast publishing and monetization service, hosting almost 620,000 podcasts.  If you're looking to start your own podcast, monetize your podcast and livestream directly to your listeners, you can set up an account at podbean.com 
Connect with us:
Find us on socials:
Connect with Lower Street on socials:
Email us: