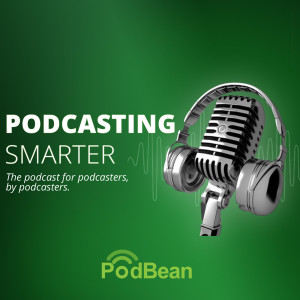 Tuesday Sep 19, 2023
From Idea to Airwaves: A Step-by-Step Guide to Creating Effective Ads and Successfully Placing them on Podcasts - LIVE Replay
Today's episode is a replay of our live event, From Idea to Airwaves: A Step-by-Step Guide to Creating Effective Ads and Successfully Placing them on Podcasts with Podbean's Podcast Specialist, Roni Gosch and VP of Marketing & Sales, Mark Pafume. 
"Podcast ads meet people where they're excited about listening and they're highly engaged already with a high level of trust." - Mark Pafume
Do you want to effectively promote your products through podcast advertising and achieve increased reach and engagement with targeted podcast listeners?
Look no further, because we have the solution for you. In this week's episode we will be sharing effective strategies for creating and placing ads in podcasts, enabling you to attain the desired outcome of expanding your reach and engaging with your target audience.
If you're ready to take your podcast advertising to the next level and achieve greater success in promoting your products, listen in for the solution you've been looking for.
In this episode, you will:
Discover crucial tactics for crafting and placing compelling podcast advertisements that truly hit the mark.

Uncover the secrets of identifying the right podcasts that resonate with your ideal audience.

Grasp the essence of CPM and ad metrics to gauge advertising performance with finesse.

Learn how to create captivating ads that seamlessly blend in with the podcast's overall tone and theme.

Come to appreciate the simplicity and cost-effectiveness of podcast advertising as a powerful tool for promotion and growth.
Subscribe to our email newsletter to get updates from the team head over to: https://www.podbean.com/email-subscribe
Sign up for all of Podbean's Free Live Events here:
About us:
Podcast Smarter is the official in-house podcast by Podbean. 
Podbean is a podcast publishing and monetization service, hosting almost 620,000 podcasts.  If you're looking to start your own podcast, monetize your podcast and livestream directly to your listeners, you can set up an account at podbean.com 
Connect with us:
Find us on socials:
Email us: