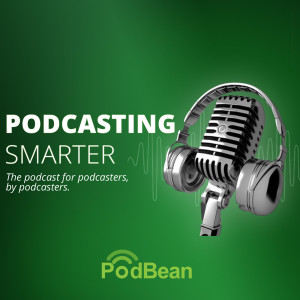 Tuesday Dec 06, 2022
How to promote your podcast through your email newsletter LIVE REPLAY
On this episode of Podcasting Smarter, Shannon Martin discusses the importance of email newsletters for promoting your podcast and shares best practices for creating a successful newsletter strategy.

You will learn how to use email newsletters to promote your podcast and keep your listeners engaged.

Shannon Martin is the Director of Communications until recently and has been writing email newsletters for over 10 years.
Email newsletters are important for podcast promotion because they provide a way to communicate with listeners that is more reliable than social media. What makes a great email newsletter includes a clear subject line, interesting content, and a call to action. The benefits of an email newsletter for your podcast include the ability to expand upon the topics covered in your podcast and to build a community around your podcast.

"Podcasting is so intimate, you really want to have that voice shine through in the newsletter in this case."

In this episode, you will learn the following:

1. The importance of email newsletters for podcasters in maintaining and growing their audience base.

2. The benefits of an email newsletter for podcast promotion, including increasing awareness and providing value-added content.

3. The elements of a great email newsletter, including an attention-grabbing subject line, clear and concise content, and a strong call to action.
Resources:
Learn more about Podbean's Enterprise and Business solutions that are trusted by industry leaders world wide, read case studies and more. Subscribe to our email newsletter to get industry updates: https://www.podbean.com/email-subscribe 
Sign up for all of Podbean's Free Live Events here:
https://www.eventbrite.com/o/podbeancom-31329492977 


About us:
Podcast Smarter is the official in-house podcast by Podbean. 
Podbean is a podcast publishing and monetization service, hosting almost 620,000 podcasts.  If you're looking to start your own podcast, monetize your podcast and livestream directly to your listeners, you can set up an account at podbean.com 
Connect with us:
Email us: