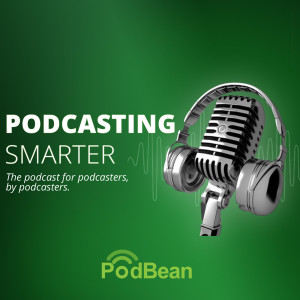 Tuesday Mar 21, 2023
Helen Fospero: From Bunk Bed to the Hebrides, Crafting Branded Podcasts with The Convex Conversation
On this episode of Podcasting Smarter we're speaking with Helen Fospero.  A seasoned journalist, Helen Fospero, sets out to interview inspiring people from around the world for Convex's podcast, The Convex Conversation and discovers a world of diversity, adventure, and the power of giving along the way.
"It gives Convex a really lovely connection with all sorts of interesting people around the world" - Helen Fospero

In this episode, you will learn the following:
1. How Helen has uses her traditional journalism background within podcasting -  and what those skills are! 
2. Best practices and tips for confirming high-profile podcast guests
3. Working with big brands on branded content and what's creatively possible, what goes into production and how to get audio and video assets (including music from James Bond movies!) 
Resources:
Subscribe to our email newsletter to get industry updates: https://www.podbean.com/email-subscribe 
Sign up for all of Podbean's Free Live Events here:
https://www.eventbrite.com/o/podbeancom-31329492977 
Other episodes you'll enjoy:
About us:
Podcast Smarter is the official in-house podcast by Podbean. 
Podbean is a podcast publishing and monetization service, hosting almost 620,000 podcasts.  If you're looking to start your own podcast, monetize your podcast and livestream directly to your listeners, you can set up an account at podbean.com 
Connect with us:
Email us: