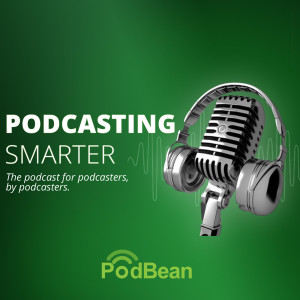 Tuesday Jan 24, 2023
From Shelter in Place to The Stanford Storytelling Project: Laura Joyce Davis Shares Skills Learned Along the Way
On this episode of Podcasting Smarter we're speaking with Laura Joyce Davis.  Laura is a lecturer and managing editor at the Stanford Storytelling Project, executive producer and host of Shelter in Place, and CEO and co-founder of Narrative Podcasts. She is a 20-year fiction writer with an MFA and has become a successful professional podcaster.

"Finding your voice means when you write, when you speak, there's a way that you show up that is uniquely you." - Laura Joyce Davis

In this episode, you will learn the following:
1. How Laura Joyce Davis became a professional podcast service provider, entrepreneur and now teaches podcasting at Stanford University with The Stanford Storytelling Project. 
2. What unexpected skills Laura drew from her background in fiction writing to create successful podcast episodes?
3. How can someone with no experience in podcasting become an audio expert?
Resources:
Subscribe to our email newsletter to get industry updates: https://www.podbean.com/email-subscribe 
Sign up for all of Podbean's Free Live Events here:
https://www.eventbrite.com/o/podbeancom-31329492977 
Other episodes you'll enjoy:
About us:
Podcast Smarter is the official in-house podcast by Podbean. 
Podbean is a podcast publishing and monetization service, hosting almost 620,000 podcasts.  If you're looking to start your own podcast, monetize your podcast and livestream directly to your listeners, you can set up an account at podbean.com 
Connect with us:
Email us: