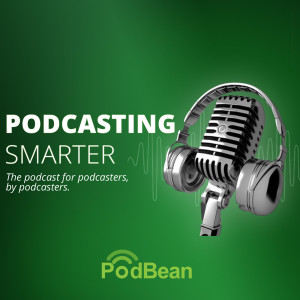 Tuesday Apr 25, 2023
Nigeria's Podcast Boom: A Chat with Fay Fay of 808Xtra and Naija PodHub on How She Started Her Podcast Editing Business and Community!
On this episode of Podcasting Smarter we're speaking with Fay Fay.
Fay Fay, a computer engineer turned podcasting pioneer in Nigeria. With a background in radio and a passion for audio content, Fay Fay has made significant strides in growing the Nigerian podcasting community.
As the founder of 808Xtra and Naija PodHub, she has created a platform for Nigerian podcasters to connect, learn, and share their stories.
Through her own podcasts, The Unusual, The Fray, and Previously On, Fay Fay has demonstrated her diverse interests and ability to engage audiences with compelling content.
As a professional podcast editor and producer, Fay Fay offers valuable insights and expertise that aspiring podcasters can learn from.

"Turn your passion into a career by staying curious and seeking opportunities." - Fay Fay 

In this episode, you will learn the following:
Master podcast editing techniques, professional etiquette, and effective client management strategies.

Discover Naija PodHub's mission to foster a thriving, supportive podcasting community.

Delve into the transformative impact of audio dramas on Nigeria's podcasting scene.

Embrace the power of audience engagement and clever content reusability strategies to grow your podcast.
Resources:
Subscribe to our email newsletter to get industry updates: https://www.podbean.com/email-subscribe 
Sign up for all of Podbean's Free Live Events here:
https://www.eventbrite.com/o/podbeancom-31329492977 
About us:
Podcast Smarter is the official in-house podcast by Podbean. 
Podbean is a podcast publishing and monetization service, hosting almost 620,000 podcasts.  If you're looking to start your own podcast, monetize your podcast and livestream directly to your listeners, you can set up an account at podbean.com 
Connect with us:
Email us: