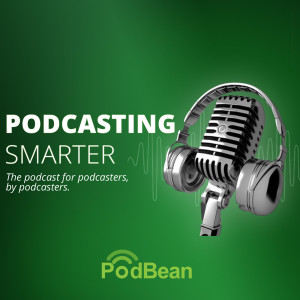 Tuesday Jan 03, 2023
Everything You Need to Know to Start a Podcast in the New Year with Podcast Specialist Roni Gosch: Live Replay
If you're curious about starting a podcast, here are a few things you need to know!

On today's episode of Podcasting Smarter we're joined by Roni Gosch, our Podcast Specialist here at Podbean for this replay of our live event where we're discussing everything you need to know to start a podcast in the new year and cover the who, what, where, when, and why of podcasting. 
Roni also talks about why it's important to understand why you want to start a podcast, your audience avatar and formats, including storytelling and interview shows.
"Podcasting has a very low barrier of entry. So anybody can start a podcast. All you really need is a phone and a pair of headphones and you can start a podcast."
On this episode, you will learn the following:
1. The Who, What, Where, When, and Why of your podcast 
2. The importance of storytelling in podcasting
3. The different types of podcast formats
Resources:
Podbean's Step-By-Step Guide to starting a podcast:
Read the full article on Podbean's Blog:
Sign up for all of Podbean's Free Live Events here:
About us:
Podcast Smarter is the official in-house podcast by Podbean. 
Podbean is a podcast publishing and monetization service, hosting almost 620,000 podcasts.  If you're looking to start your own podcast, monetize your podcast and livestream directly to your listeners, you can set up an account at podbean.com 
Connect with us:
Email us: