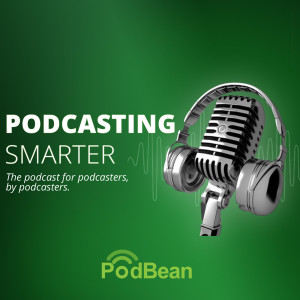 Tuesday Apr 11, 2023
Stephanie Thompson: Overcoming Stigma & Building Community with the Brave Mumma Podcast
On this episode of Podcasting Smarter we're speaking with Stephanie Thompson, the compassionate creator and host of the Brave Mama Podcast.
Drawing from her background in education and her own experience as a mother living with pelvic organ prolapse, Stephanie established the podcast as a platform for women to openly discuss their struggles and find support.
By breaking the silence around this sensitive subject, she has fostered an inclusive community where mothers can feel seen, heard, and understood. Stephanie's unwavering dedication to raising awareness and providing valuable resources has made a significant impact on the lives of countless women facing the challenges of pelvic organ prolapse.
"If you have something you want to talk about, if you have an opinion, if you have a perspective, you have a podcast." - Stephanie Thompson

On this episode, you will learn about the following:
Empowering listeners: Stephanie's podcast empowers women dealing with pelvic organ prolapse by providing a platform for their stories and creating a supportive community.
Balancing positive and negative stories: The podcast provides a comprehensive view of the topic by sharing both positive and negative birth stories.
Hybrid format: The Brave Mama podcast's hybrid format (combining interviews with educational content) caters to busy moms while still providing valuable information.
Building niche communities: Stephanie has built a niche community around a sensitive topic, breaking stigmas and fostering inclusivity.
Monetization strategies: The podcast's monetization strategies offer insight into the potential limitations of niche podcasting and alternative income sources.
Resources:
Subscribe to our email newsletter to get industry updates: https://www.podbean.com/email-subscribe 
Sign up for all of Podbean's Free Live Events here:
https://www.eventbrite.com/o/podbeancom-31329492977 
Other episodes you'll enjoy:
About us:
Podcast Smarter is the official in-house podcast by Podbean. 
Podbean is a podcast publishing and monetization service, hosting almost 620,000 podcasts.  If you're looking to start your own podcast, monetize your podcast and livestream directly to your listeners, you can set up an account at podbean.com 
Connect with us:
Email us: