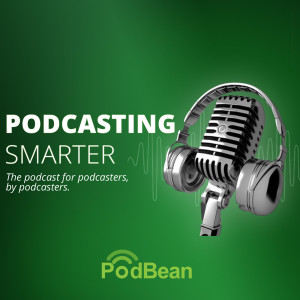 Tuesday May 16, 2023
Building Podcast Profiles and Creator Credits: Insights from Podchaser's Cole Raven
On this episode of Podcasting Smarter we're speaking with Cole Raven.
Cole Raven, the Co-founder and Chief Revenue Officer of Podchaser, is joining us today to discuss the importance of building podcast profiles and leveraging podcast creator credits. Cole's journey began back in 2016 when he and his fellow co-founders started Podchaser to fill a gap in the podcasting market.
With a passion for podcasting and a keen eye for detail, Cole has helped Podchaser grow into a platform that now tracks over 100,000 unique creators and their credits. His dedication to providing a user-friendly experience and focus on podcast creator credits has made Cole an expert in podcast industry trends and strategies.

"It's a really good way to kind of build almost like a professional resume for yourself and the work that you've done in the podcasting space." - Cole Raven

The resources mentioned in this episode are:
Create a Podchaser account and build a creator profile with all of your podcast credits and personal information.
Follow your favorite podcasters and creators to keep up with their latest work and discover new content.

Use Podchaser's search and discovery tools to find new podcasts based on ratings, reviews, and episode credits.

Leave episode-level ratings and reviews to help others discover great content.

Share your Podchaser profile with others to showcase your work and build your podcasting career.
Resources:
Subscribe to our email newsletter to get industry updates: https://www.podbean.com/email-subscribe 
Sign up for all of Podbean's Free Live Events here:
https://www.eventbrite.com/o/podbeancom-31329492977 
About us:
Podcast Smarter is the official in-house podcast by Podbean. 
Podbean is a podcast publishing and monetization service, hosting almost 620,000 podcasts.  If you're looking to start your own podcast, monetize your podcast and livestream directly to your listeners, you can set up an account at podbean.com 
Connect with us:
Email us: