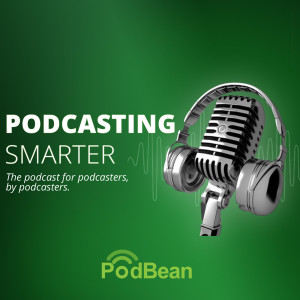 Tuesday Feb 07, 2023
Audience Development & Growth Strategy: A Conversation with Jeff Umbro and Joni Deutsch of The Podglomerate
On this episode of Podcasting Smarter we're speaking to Jeff Umbro, CEO and founder of The Podglomerate, and Joni Deutsch, Vice President of Marketing and Audience Development at The Podglomerate, a company that produces, distributes, and monetizes podcasts.  

"The best way to find podcast listeners is to go after the folks who are already listening to podcasts." - Jeff Umbro

In this episode, you will learn the following:
1. Learn how top podcasting production companies produce, distribute, and monetize podcasts.
2. Discover strategies for effective audience development in podcasting.
3. Uncover strategies for maximizing podcast monetization.
Resources:
Podbean's In-App Promo: https://www.podbean.com/advertise-your-podcast-on-podbean-app 
Subscribe to our email newsletter to get industry updates:https://www.podbean.com/email-subscribe
Other episodes you'll enjoy:
About us:
Podcast Smarter is the official in-house podcast by Podbean. 
Podbean is a podcast publishing and monetization service, hosting almost 620,000 podcasts.  If you're looking to start your own podcast, monetize your podcast and livestream directly to your listeners, you can set up an account at podbean.com 
Connect with us:
Email us: