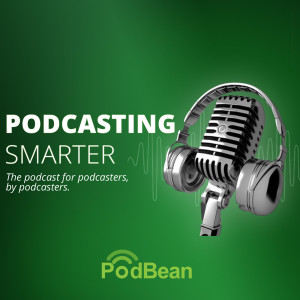 Tuesday Apr 18, 2023
Mastering Your Podcast Website: Best Practices and SEO Tips - LIVE Replay
Today's episode is a replay of our live event, Mastering Your Podcast Website: Best Practices and SEO Tips! 
Podbean's Head of Events, Norma Jean Belenky, Director of Customer Service John Kiernan, are joined by and Deirdre Tshien, CEO of Capsho will provide valuable insights and actionable tips for podcasters looking to improve their website's user experience, increase engagement, and optimize it for search engines.
"Always have empathy for your audience and create content that's catered to them." - Deirdre Tshien
Deirdre Tshien is the founder of Capsho, an AI-powered podcast copywriter that creates episode show notes, descriptions, social media posts, captions, promotional emails, blog posts, and transcripts in under 10 minutes. She is also the host of Grow My Podcast Show, a podcast for podcasters looking to grow their show.
In this episode, you will learn:
Key elements of a successful podcast website: Discover what features are essential to creating a podcast website that attracts and retains listeners.
Effective website design and user experience strategies: Learn how to make your website visually appealing, user-friendly, and optimized for conversion.
Common SEO mistakes and how to avoid them: Find out what the most common SEO mistakes podcasters make are and learn how to avoid them to rank higher on search engines.
Best practices for optimizing your website for search engines: Learn how to use keywords, metadata, and other tactics to improve your website's visibility and reach.
Strategies for promoting your podcast website on social media: Understand how to use social media to promote your website and increase your followers.
How to leverage email marketing to drive traffic: Learn how to use email marketing to get more subscribers and drive traffic to your website.
The importance of mobile-friendly websites in today's digital landscape: Understand why having a mobile-friendly website is essential in today's digital age.
Using analytics to track and improve website performance: Learn how to use website analytics to track visitor behavior and make data-driven decisions.
Future trends in podcast website design and SEO: Discover emerging trends in podcast website design and SEO and prepare your website for the future.
Sign up for all of Podbean's Free Live Events here:
About us:
Podcast Smarter is the official in-house podcast by Podbean. 
Podbean is a podcast publishing and monetization service, hosting almost 620,000 podcasts.  If you're looking to start your own podcast, monetize your podcast and livestream directly to your listeners, you can set up an account at podbean.com 
Connect with us:
Find us on socials:
Email us: