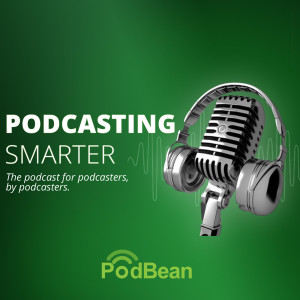 Thursday Oct 06, 2022
How to Make Impactful Branded Podcasts: Live Replay with Napier B2B on Brand Storytelling, Repurposing Content and Finding Your Audience
In this episode of Podcasting Smarter, we're sharing an interview from Podbean's Corporate Podcasting Smarter series.   
Podbean's Head of Events, Norma Jean Belenky speaks with Mike Maynard and Nesbert Musuwo of Napier B2B. 
Mike is the Managing Director/CEO of Napier, a $7M PR and marketing agency for B2B technology companies. He is a self-confessed geek who loves talking about technology. He believes that combining the measurement, accountability, and innovation that he learned as an engineer with a passion for communicating internationally means Napier can help clients achieve their marketing goals sooner. Mike acquired Napier in 2001 and subsequently acquired Peter Bush Communications and Armitage Communication, growing the company to about 40 people today. Since that time, he has directed major PR and marketing programs for a wide range of global technology clients, reaching over 30 European countries.
Mike offers a unique blend of technical and marketing expertise and was awarded a Masters Degree in Electronic and Electrical Engineering from the University of Surrey and an MBA from Kingston University. Mike began his career as an electronics design engineer, working for companies ranging from GEC-Marconi to DDA, developing products from complex radar systems to Kim Wilde's mixing desk. Mike later joined IDT Inc, an American semiconductor company, making his move into marketing when he switched from European Applications Manager to European Marketing Manager.
Nesbert is an Account Manager and has marketing managerial experience dealing with high-net worth clients in a supercar business selling Bugatti's, Lamborghini's and Ferrari's. Nesbert joined the team in 2019, with 6 years of marketing experience and a First-Class Honors Degree in Business Management with Marketing.
Nesbert is responsible for growing social media platforms to an incredible level with phenomenal following and engagement, e-mail marketing campaigns, events management, website content writing and more. Originally from Zimbabwe, Nesbert speaks two fluent languages, and is a passionate and energetic member of the Napier team with a keen eye for detail.  
We'll discuss how podcasting can share the story of your brand in an engaging way, how to build audience and what a successful branded content audience is, repurposing content, best practices and more.  
We'll also cover..
The benefits of branded podcasts
How branded podcasts make an impact and what that impact looks like
What kind of audience branded podcasts should reach for in regard to size or specific target market
How many different kinds of companies can benefit from branded podcasts
The work Napier B2B does with their branded podcast clients
How to make products appealing that may not have the most commercial appeal or be that "interesting"
Repurposing content and how it fits within a larger marketing strategy with content creation from podcast, e-books and articles written as a roundtable.
Best practices for podcast creation in regard to your brand and what companies looking to get into branded podcasts should can do to start! 
You can re-watch the live panel here on Podbean's YouTube and you can find Mike and Nesbert and learn about the work Napier B2B does here.  
...
Learn more about Podbean's Enterprise and Business solutions that are trusted by industry leaders world wide,  read case studies and more.
Subscribe to our email newsletter to get updates from the team head over to: https://www.podbean.com/email-subscribe
Podcast Smarter is the official in-house podcast by Podbean. 
Podbean is a podcast publishing and monetization service, hosting almost 600,000 podcasts.  If you're looking to start your own podcast, monetize your podcast and livestream directly to your listeners, you can set up an account at podbean.com 
To contact Podcasting Smarter with questions get in contact at podcastingsmarter@podbean.com