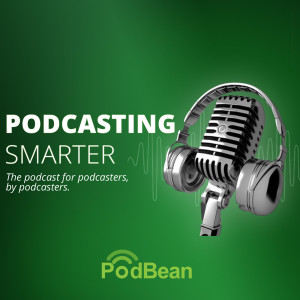 Tuesday Nov 29, 2022
How to become a podcast editor: Using your indie podcast skills for freelance, remote work or to create a business LIVE REPLAY!
On this episode of Podcasting Smarter, we're sharing an interview from Podbean's Podcasting Smarter Live series featuring three editors from around the world on how they learned how to edit podcasts and became pod
Stephanie Fuccio is the founder of Podcast Editing Plus and Global Podcast Editors, and a passionate advocate for the power of audio storytelling. 
David Roemer is the founder of Genuina Media, a podcasting company that produces original content in Spanish. He is also a member of the Global Podcast Editors community, and is passionate about helping others in the podcasting industry.
Puneeth Shenoy is the editor for some of the top popular names in the podcasting space, including Hala Taha, Jason Waller, Alison Maslan, and Jordan Harbinger. He is also the founder of Podcast Pundits.  


Stephanie Fuccio, David Roemer and Puneeth Shenoy have each learned about podcast editing and marketing those skills in unique ways from their own journeys in podcasting.
Stephanie emphasized the importance of being content-focused first and foremost, David discussed the nuances of being a podcast editor in Spanish and how the industry is evolving in Latin America and Puneeth spoke about the importance of maintaining a human touch when editing and the challenges of working with different languages.
All three panelists agreed that there is a market for podcast editing and that it is a skill that is worth charging for.

"I think an audio editor should always charge."

In this episode, you will learn the following:
1. The journey of becoming a podcast editor, including the different skills and experience required
2. The different ways that podcast editors can be involved in the industry, including working with small businesses or large organizations
3. The importance of having a clear understanding of what a podcast editor does and how they can help improve the quality of a podcast

Resources:
Learn more about Podbean's Enterprise and Business solutions that are trusted by industry leaders world wide, read case studies and more. Subscribe to our email newsletter to get industry updates: https://www.podbean.com/email-subscribe 
Sign up for all of Podbean's Free Live Events here:
https://www.eventbrite.com/o/podbeancom-31329492977 


About us:
Podcast Smarter is the official in-house podcast by Podbean. 
Podbean is a podcast publishing and monetization service, hosting almost 620,000 podcasts.  If you're looking to start your own podcast, monetize your podcast and livestream directly to your listeners, you can set up an account at podbean.com 
Connect with us:
Email us: