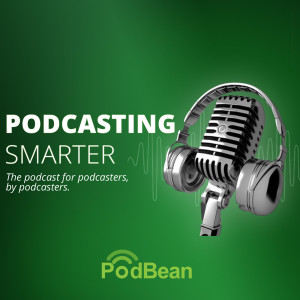 Tuesday Jan 17, 2023
Get Ready for PodFest 2023 with Chris Krimitsos and Learn About the Mysterious PodFest Bump!
On this episode of Podcasting Smarter we're speaking with Chris Krimitsos.  Chris Krimitsos is the creator and founder of PodFest, an annual upcoming podcast conference dedicated to the love of podcasting and helping independent content creators connect with great services, education, and one another.
PodFest is this upcoming Thursday January 26th - Sunday January 29th at the Renaissance Orlando at Seaworld in Orlando, Florida.
"Focus on your community and keep focusing on delivering value to podcasters." - Chris Krimitsos

In this episode, you will learn the following:
1. Discover the mysterious "PodFest Bump" of 10% more listenership and how it can benefit your podcast.
2. Learn about the ever-evolving world of podcasting, from creating successful passive income to unlocking new monetization opportunities.
3. Experience Podfest, where attendees become the closing keynote and are given the chance to meet and collaborate with industry insiders.
Podbean's Director of Customer Success, John Kiernan, will be offering a session on "Creating Successful Passive Income with Your Podcast in 3 Steps" on Friday, Jan. 27th at 1:15 PM in the Creator Wing.  
You can attend PodFest for FREE using the code "PodbeanExpo34" for a FREE Expo Hall Pass! 

Chapter Summaries:
[00:00:01]
Podcasting Smarter is the official Podbean from Podbean. It features podcasting interviews, best practices, and helpful tips. In today's episode, we'll hear all about this year's PodFest which is coming up in a couple of weeks.
[00:00:55]
Podbean will be in the expo hall at Podfest. And we are booth 34. We've got some free passes for everybody out there who's part of our Podbean family. Come join. Come say hi to the Podbean team. Use the code "PodbeanExpo34" for a free pass to the expo hall. 
[00:01:32]
Podfest was created from a meetup of 13 people in 2013. Since then, Podbean has literally grown. In 2020, a week before the lockdowns, we had just under 2000 attendees. Collaboration with other podcasters is probably one of the most important things to help grow your show.
[00:03:35]
If you could go back and tell yourself some wisdom, what would you tell yourself? I would just tell myself, focus on your community and keep focusing on delivering value to podcasters.
[00:04:17]
The conference is a little different than your average creator con. We host the largest influencer meet and greet in podcasting in the world. The closing keynote is the audience itself of creators. It really is a community.
[00:09:04]
Chris: Podcasting is such a community based event. It's something where you really feel community around you. For anybody who hasn't attended an in person PodFest conference yet, we highly recommend going. I think PodFest is going to be good luck for those people that attend.
[00:11:37]
Chris: What else are you looking forward to at PodFest this year? John speaking about how to create passive income with your Podbean. There's a lot of presentations on how to add video to your podcast, streaming, and I'm excited for the monetization tracks that we have.
[00:15:43]
Chris: When we moved to Orlando, the conference was born in Tampa. In Tampa, I could get hotels for very cheap and keep the event profitable. Now in Orlando, we have people coming from all over the world.  The goodwill that you have in your community pays off.
[00:20:02]
The first tip for attendees is to get on the PodFest app. Get on the Whoova app, which is the most interactive community based app. Then when you show up and you want to hang out, go to the meetups. Try and force yourself to stay up a few hours after the conference and talk to people.
[00:23:43]
The US is becoming a mature marketplace, so we're seeing maturity in the US. The areas that excite me the most, Indonesia, Philippines, the Middle East region, North Africa. So we're just seeing a lot of growth internationally.
[00:25:12]
DAI means dynamic ad insertion. You can monetize your entire back catalog of past episodes with new ads. I think that term is going to be much more ubiquitous as we move forward because there's more money coming into the space.
[00:25:53]
Chris: I listen to clips more than podcasts now when they do the short clips. I'm going on to audiobooks a lot because the problem with the podcasts, they're so good. Right now, I'm in a cleansing. So I just listen to David Goggins new book.
[00:27:12]
Use the code "PodbeanExpo34" for a free exhibition hall pass.  Podbean's John Kiernan will be presenting "How to create successful passive Income with your Podbean in three steps"  If you have any questions about podcasting, reach out to the Podbean team.
Resources:
Subscribe to our email newsletter to get industry updates: https://www.podbean.com/email-subscribe 
Sign up for all of Podbean's Free Live Events here:
https://www.eventbrite.com/o/podbeancom-31329492977 
About us:
Podcast Smarter is the official in-house podcast by Podbean. 
Podbean is a podcast publishing and monetization service, hosting almost 620,000 podcasts.  If you're looking to start your own podcast, monetize your podcast and livestream directly to your listeners, you can set up an account at podbean.com 
Connect with us:
Email us: